How to enjoy
A Day by the Sea – a bit like Papa
Ernest House was named after "Papa" Ernest Hemingway, the great author who represents the "Lost Generation."
Although he is well known as an activist writer who moved around the world, most of his works were created in Key West at the southernmost tip of Florida.
He gave birth to his best works,"The Old Man and the Sea," " For Whom the Bell Tolls," " A Farewell to Arms," and some others while relishing the tranquil life at the sea.
All through his life, he loved the Gulf of Mexico stretching before his eyes and called it the Big Blue Water.
Among his works,"The Old Man and the Sea" has the highest reputation and, in fact, made him a Nobel prize winner.
This exquisit story couldn't have been written by anyone else but him who spent his life together with the sea.
Ernest House is intended to be the home where you can find your hideaway to loosen and freshen up, to read your favorite books, to chat away with your friends, or to make your creative works.
You are always welcome "home" with your family, your friends, your beloved one, your lovely pets and also by yourself.
Holidays in Paradise
The Pacific Ocean is just about in your reach. Naturally, you can stroll down to the white beach with your swimsuit on.
Here time passes so slowly, and you will find yourself wrapped around with various looks of nature: the white sands of Kisami-Ohama (the Big Beach of Kisami), the waves washing the reefs, the sea of cerulean blue, the ever-changing colors of the capes and the hills.
It will be also nice to soak in the open-air jacuzzi watching the clouds drift by.
Sea Breeze in a Basket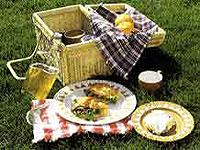 Try breakfast Ernest House style. Special sandwiches, fresh fruit, juice and coffee. All are neatly packed in a rattan basket and served at your room door.
Will you take a morning walk and open it on the beach, or do you prefer a breakfast on the sunny deck?
When you feel like staying in bed all morning, open the bascket and feel the sea breeze coming into the room.
Restaurant & Cafe
Restaurant "Arty Hearty" is LOHAS oriented and cultural-creative friendly. Pets are also welcome.
After dark, sip your favorite cocktails under the stars at "Cafe Mellow". It sure will make you forget being down here on the ground.
Long Term Stay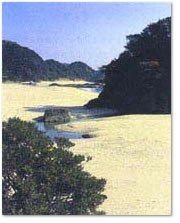 We welcome the guests who stay for a long term just like Ernest Hemingway did when he lived by the sea writing his masterpieces.
We offer every facility to fulfill your needs. Depending on the season and the period of stay , we will give you a discount on the rate.
Feel free to inquire. Are you wanting to write a novel or some poetries? Are you planning to take photographs?
Or are you into composing music? Come to Ernest House and unleash your imaginations to create superb works.
It is our pleasure if you spend your creative time in this serene space.
" You Are All Lost Generations."  — Gertrude Stein —

Sometime in the 1920's, some young, upcoming, gifted Americans gathered in Paris.
They were the "Lost Generation:" Hemingway, Faulkner, Fitzgerald and Dos Patos.
Even those giants had a hard time when they were entirely nameless and had to live only on their dreams and ambitions.